On August 26, 2021, Social Science Matrix and the D-Lab presented a lecture by Julia Lane, Professor at the NYU Wagner Graduate School of Public Service, at the NYU Center for Urban Science and Progress, and a NYU Provostial Fellow for Innovation Analytic. The talk, entitled "Democratizing Our Data," provided an overview of a research collaboration designed to improve the sharing of data across state agencies.
Lane cofounded the Coleridge Initiative, whose goal is to use data to transform the way governments access and use data for the social good through training programs, research projects and a secure data facility. The approach is attracting national attention, including from the Commission on Evidence Based Policy and the Federal Data Strategy.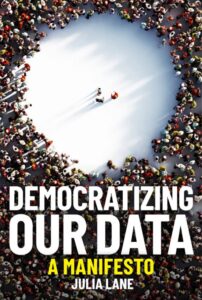 The lecture featured an overview of Lane's book, Democratizing Our Data: A Manifesto (2020, MIT Press), which "calls for a more automated, transparent, and accountable framework for creating high-quality public data that would empower citizens and inspire the government that serves them." In her Manifesto, Lane outlines an organizational model that has the potential to make data more accessible and useful.
"There is enormous interest in building a better understanding of how evidence and data can inform policy," Lane explained in the abstract for the lecture. "New possibilities have opened up to enable data to be shared and used across states and agencies. One is a technical approach – the Administrative Data Research Facility – which provides a secure environment within which education, training, and workforce data can be shared across agencies and states. The other is human – the Applied Data Analytics training program – which trains government agency staff how to combine and use the data to serve their agency missions. Over 650 participants from over 150 agencies have participated and produced new products and new networks in the process."
The presentation discusses the approach sponsored by the California Department of Social Services, joint with the Department of Education and the Economic Development Department. The D-Lab worked with the Coleridge Initiative to successfully combine the two approaches. The presentation also addresses the broader vision of how approaches like this can serve to democratize data for the United States.
Watch the video of the lecture above or on YouTube.