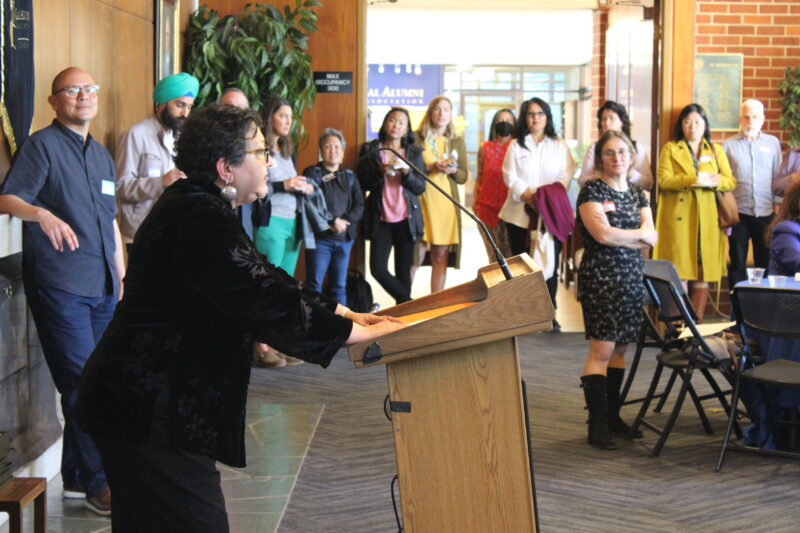 On April 25, faculty and staff members from across the Division of Social Sciences gathered for Social Sciences Fest, the annual celebration of the social sciences at UC Berkeley. This year's celebration was held at Alumni House, and all of the division's faculty — along with their families — were invited to attend.
"This is a division that, despite being so severely under-resourced, nurtures its students like no other, produces research that matters, and produces and contributes massive amounts of service to campus, so we should take every opportunity to celebrate ourselves," said Raka Ray, Dean of the Division of Social Sciences, in an address to the event's attendees.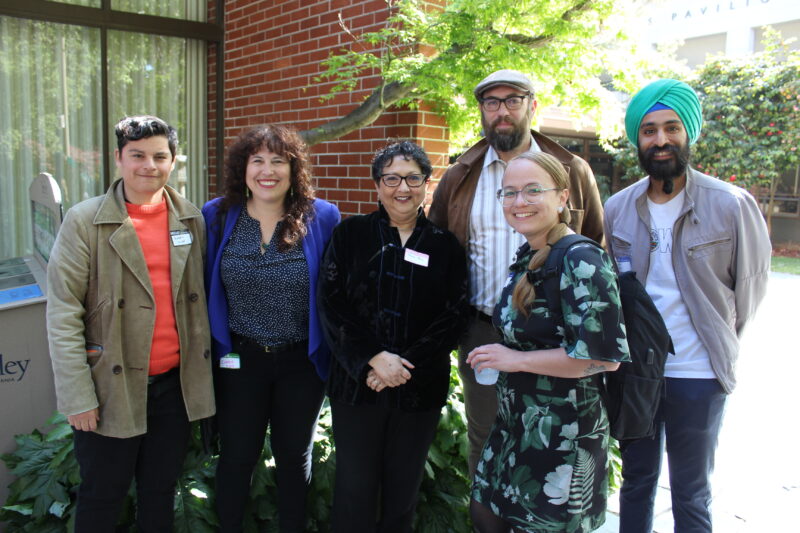 Ray noted that, over the past year, the division's faculty have won a variety of book awards, teaching awards, article awards, and other recognition. ("If I were to mention them all, I would be here for two hours listing awards," she joked.)
She singled out a few of the more sizable achievements, including a $1 million grant to support mentoring Latinx studies and scholarship; a $10 million grant from the Hewlett Foundation to launch the Berkeley Economy and Society Initiative; a new career readiness initiative to help first-generation undergraduates to earn paid internships; and the approval of a new Master of Computational Social Sciences (MCSS) degree program.
Marion Fourcade, Director of Social Science Matrix, detailed some of the past year's activities at Matrix, including Matrix Salons, social gatherings held at Matrix that are intended to build community among faculty members. "It's been another really busy year at Matrix," Fourcade said. "Our mission is to bring together this wonderful community of the Berkeley social sciences, and to stitch together the social and intellectual fabric of Berkeley, bit by bit."
Fourcade explained that Matrix supports interdisciplinary research by providing funding to Matrix Research Teams, and by organizing a range of workshops, conferences, and lectures. "We bring the external world to Berkeley by inviting people from across the country and beyond," she said.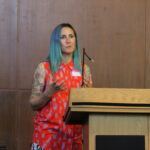 Ray welcomed the division's new faculty members, as well as those who are retiring or who earned promotions or tenure. She also recognized two faculty members with the Distinguished Teaching Award. The first honoree was Jill Bakehorn, a continuing lecturer in the Department of Sociology who "receives amazingly rave reviews from students and peers alike," Ray said. "Despite teaching large classes, she remains attentive, accessible, and kind. And her lectures affect students beyond the classroom and their time at Berkeley."
In receiving the award, Bakehorn dedicated the award to "the typically unsung hard work of all the lecturers at UC Berkeley, who work so tirelessly to educate and inspire the students in extraordinarily difficult circumstances, while simultaneously experiencing a lot of precarity and uncertainty in their own jobs."
The second Distinguished Teaching Award went to James Vernon, a professor in the UC Berkeley Department of History who, Ray said, "concerns himself with making courses engaging for students, and famously offers a course on history of soccer, which ties into many relevant topics on globalization. His [graduate student instructors] feel included like they are teaching along with him and revel at the students excitement in courses that are historically difficult to get enthusiastic over."
Professor Vernon could not attend the event, but shared his thanks through pre-written remarks. "Of all the things we do at UC Berkeley, teaching is the most important for me, and is so essential to the public mission of the university," Vernon said. "While I delight in receiving this award, it is really an award for all of us who live in fear that we unravel in the classroom. It is an award for all of those colleagues, graduate students, and faculty alike who have taught me how to teach. And lastly, of course, it is an award for our wonderful students who never cease to amaze me — and from whom I never cease to learn."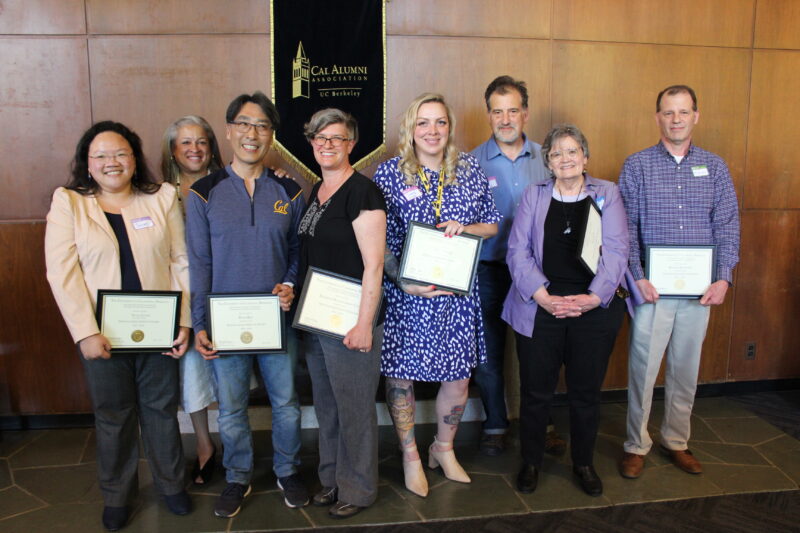 Ray awarded this year's Distinguished Service Awards to the managers of the division's departments, including Marianne Bartholomew-Couts (History), Serena Groen (Political Science), Joan Kask (ISSP), David Kim (Anthropology), Susan Luong (Linguistics), Josh Mandel (Geography), Alex Mastrangeli (Psychology), Sandy Richmond (African American Studies, Ethnic Studies, & Gender and Women's Studies), Michael Schneider (Demography & Sociology), and Phil Walz (Economics).
"You incredible group of people, you deal with everything from TAS submissions to leaky pipes, from managing always charming faculty, to helping students in crisis, and you do so trying to keep everybody's spirits up," Ray said. "I thank you on behalf of the division — and on behalf of each of your departments."
Additional Images