On September 24, 2015, William F. Hanks, UC Berkeley Distinguished Chair in Linguistic Anthropology and Director of Social Science Matrix, formally received the 2015 J.I. Staley Book Prize from the School of Advanced Research (SAR). Hanks received the Staley Prize—sometimes called the "Pulitzer Prize of anthropology"—for his book, Converting Words, Maya in the Age of the Cross (University of California Press, 2010).
Michael Brown, President of the Santa Fe-based SAR, presented the award in a ceremony attended by approximately 50 of Professor Hanks' colleagues and family members. The book was selected this year by "a terrific group of anthropologists representing various sub-fields (of anthropology)," according to Brown. "In the end, the choice was fairly easy and, I have to say, harmonious."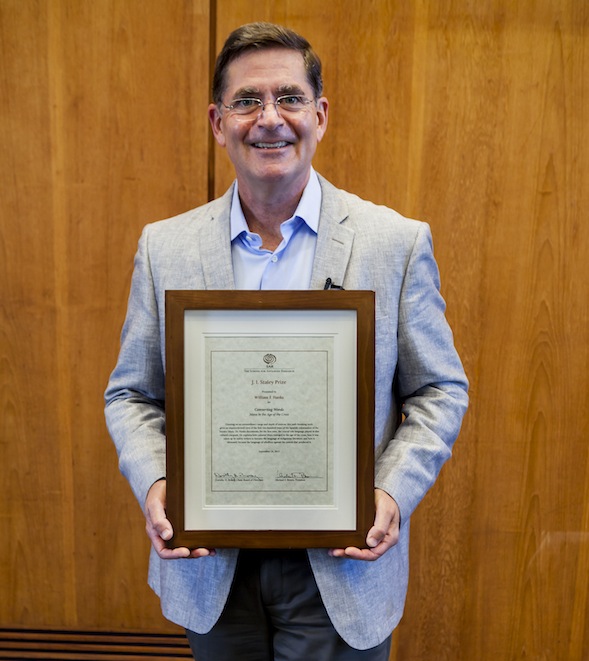 According to its website, the School for Advanced Research (SAR) presents the J. I. Staley Prize—named after "a Texas oil man," according to Brown—"to a living author for a book that exemplifies outstanding scholarship and writing in anthropology. The award recognizes innovative works that go beyond traditional frontiers and dominant schools of thought in anthropology and add new dimensions to our understanding of the human species. It honors books that cross subdisciplinary boundaries within anthropology and reach out in new and expanded interdisciplinary directions."
The SAR honored Converting Words, Maya in the Age of the Cross as it "gives an unprecedented view of the first two hundred years of the Spanish colonization of the Yucatec Maya. Drawing on an extraordinary range and depth of sources, Dr. Hanks documents for the first time the crucial role language played in this cultural conquest."
"In Converting Words," the Staley Prize Committee wrote, "linguistic anthropologist William F. Hanks informs our understanding of how a Yucatec Maya 'translanguage' emerged from the collaboration of Franciscan missionaries and indigenous scribes during the early colonial era. By reordering linguistic and discursive fields, this new colonial language affected a spiritual conquest that facilitated the physical, social, and political reorganization of indigenous communities and its perpetuation by the Maya themselves."
"Drawing on three decades of fieldwork and archival research, Hanks uses ethnohistorical and linguistic methodologies and discourse analysis to produce a compelling account of how changing language practices helped construct the colonial social order. The result is a work of great significance not only to anthropologists but also to historians, Maya scholars, and students of colonialism and the globalization of Christianity. Converting Words illuminates the transformative power of language in processes of culture contact, conquest, and resistance."
In a brief speech, Hanks thanked his family, his editor, and others who supported him in producing this rich scholarly work—and he highlighted the strong sense of connection to UC Berkeley. "Although the research underlying the book took just about 30 years…, the book was written here, and in a fundamental way, it is a Berkeley book; it comes out of our department," Hanks said.
This year's honor further solidifies the status of the UC Berkeley Department of Anthropology as a leading center for high-impact research. In winning the Staley Prize this year, Hanks joins five fellow recipients from Cal, including Charles Briggs (2007), Terrence Deacon (2005), Lawrence Cohen (2003), Nancy Scheper-Hughes (2000), and Patrick Kirch (1998).
"For my entire career, the Staley Book Prize has set a formidable standard in the field. In that sense, it's been generative far beyond the people who have been fortunate enough to get it," Hanks said. "It's also a thrill to join five of my Berkeley colleagues in our department who have received the prize, which is remarkable number given the relative paucity in the number of people who have done it."
Hanks expressed gratitude toward the SAR for supporting the type of long-term research that led to Converting Words. "It is vital to contemporary scholarship that long-term, in-depth research be rewarded," he said. "In a digital world where time is compressed and the social-science research landscape is undergoing seismic shifts, the research university is one of the rare places where such sustained search for basic knowledge can be pursued and is rewarded. With its many programs and prizes, SAR has played a key role in supporting this essential dimension of anthropology, which is crucial to our long-term existence."