Please join us on October 4, 2023 from 4:00pm-6:00pm for a talk by Michèle Lamont, author of Seeing Others: How Recognition Works — and How It Can Heal a Divided World.
Michèle Lamont is a Professor of Sociology and of African and African American Studies at Harvard University, where she is also the Robert I. Goldman Professor of European Studies. She served as the 108th President of the American Sociological Association and her research has received numerous awards, including honorary doctorates from six countries. The author or coauthor of over a dozen books, she can be found on MicheleLamont.org.
Co-sponsored by Berkeley Law, the UC Berkeley Department of Sociology, the Berkeley Immigration and Migration Initiative (BIMI), and the Center for Race & Gender (CRG), and the Transformations of Citizenship Leibniz Research Group.
If you require accommodation for effective communication (ASL interpreting/CART captioning, alternative media formats, etc.) to fully participate in an event, please contact Ariana Ceja at centerrg@berkeley.edu with as much advance notice as possible, and at least 7-10 days in advance of the event.
About the Book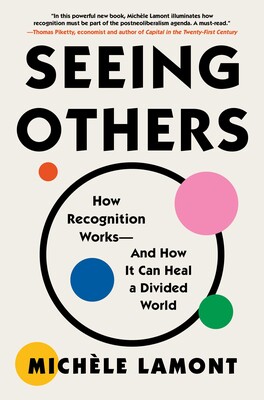 In this capstone work, Michèle Lamont unpacks the power of recognition—rendering others as visible and valued—by drawing on nearly forty years of research and new interviews with young adults, and with cultural icons and change agents who intentionally practice recognition—from Nikole Hannah Jones and Cornel West to Michael Schur and Roxane Gay. She shows how new narratives are essential for everyone to feel respect and assert their dignity.
Decades of neoliberalism have negatively impacted our sense of self-worth, up and down the income ladder, just as the American dream has become out of reach for most people. By prioritizing material and professional success, we have judged ourselves and others in terms of self-reliance, competition, and diplomas. The foregrounding of these attributes of the upper-middle class in our values system feeds into the marginalization of workers, people of color, LGBTQIA+ individuals, and minority groups. The solution, Lamont argues, is to shift our focus towards what we have in common while actively working to recognize the diverse ways one can live a life. Building on Lamont's lifetime of expertise and revelatory connections between broad-ranging issues, Seeing Others delivers realistic sources of hope: By reducing stigma, we put change within reach.
Just as Robert Putnam's Bowling Alone did for a previous generation, Seeing Others strikes at the heart of our modern struggles and illuminates an inclusive path forward with new ways for understanding our world.
View Map