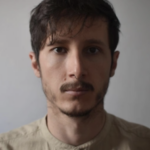 Less than a month before Brazil's most important elections since the end of the military dictatorship in 1985, Berkeley Geography and Social Science Matrix are hosting the filmmaker Madiano Marcheti.
Marcheti's first feature-length movie, Madalena, which premiered last year, shows a Brazil rarely seen on film. Set in the agroindustrial interior of Mato Grosso do Sul, the film offers a profound reflection on the imbrications of political power, race, masculinity, agroindustry, and anti-LGBTQI violence in contemporary Brazilian society. Melding the genres of science fiction and social realism it is at turns deeply dystopian and at others utopic, imagining other social relationships and environmental refugia amidst crumbling liberal and developmentalist myths.
Please note the screening will take place on Sept. 14 at 3:30pm in McCone Hall, Room 575.
View Map